I'm familiar with Iranian film director Abbas Kiarostami because of his collaboration with two other directors of international repute, Italian director Ermanno Olmi and our very own Ken Lynch, who joined together to direct three interwoven stories, that take place during a cross European journey to Rome, that form
Tickets
(2005). Kiarostami section dealt with a haughty, middle-aged widow of an Italian general with an undefined relationship to her young travelling companion. His latest full-length feature film
Certified Copy
(2009) is in English, French and Italian.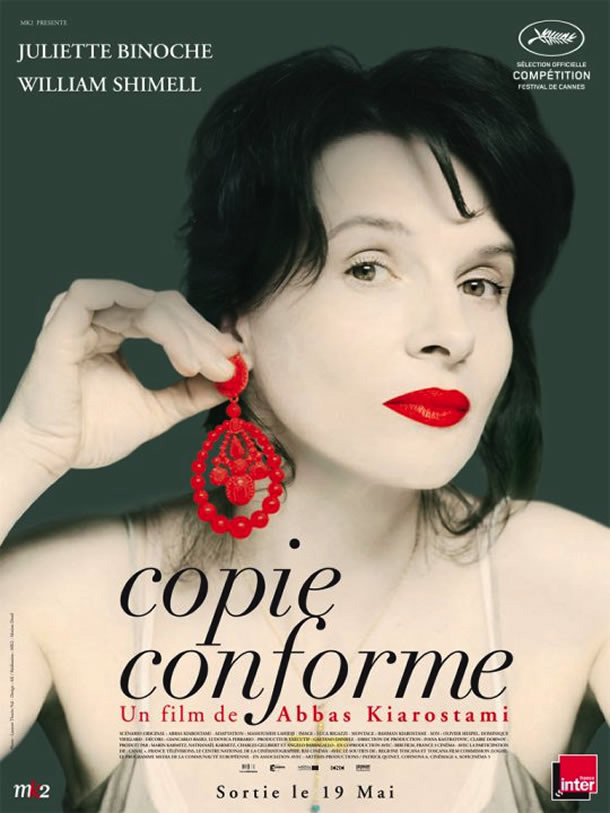 This observational snapshot of human behaviour set in Tuscany, includes three of the most irritating and annoying characters I have ever seen in a movie. James Miller an English author gives a talk on his new book about 'authenticity and originality in art' in which he proposes that a good reproduction can be as authentic as the original. In the audience are an attractive Frenchwomen and her son; 'she' leaves Miller a note inviting him to visit her antiques shop. They decide to go for a drive to somewhere more interesting and end up in a restaurant where the proprietress mistakes the pair as a married couple. We then spend the remainder of the movie trying to determine if the argumentative twosome are, or have been, man and wife?
Juliette Binoche received the Best Actress Award at this years Cannes Film Festival for her performance as 'she'. British opera singer William Shimell portrays James Miller, in his first feature film role. Binoche's performance carries the film and certainly over shadows the more restrained performance from Shimell. Interesting without being absorbing.